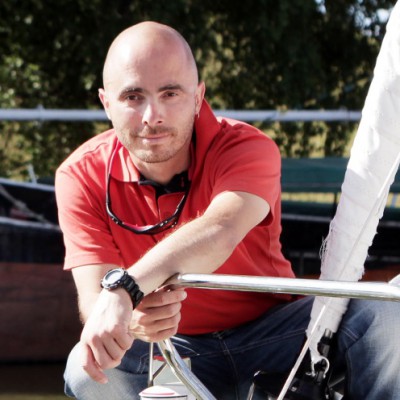 Ruslanas Rokas Arbušauskas

Nationality Lithuanian. European Union.

42 years old

Single. Non smoker. No alcohol.

Languages: Lithuanian (native) English, Russian

Email: rokas@arbusis.lt

Mobile: +370 698 73327
Profile
So far I  have accumulated about 7 400 nautical miles at sea, coastal and offshore, as a crew member, first mate and most of them as a skipper of a sailing yacht.
For five years I was a general manager, skipper, fleet skipper and bosun  at a charter company Gosail.lt. I am a hard working person with a high sense or responsibility  looking to further a professional career at sea. I am ready to start from deck hand through competent crew mate, and up to a skipper position.
Ever since I've been sailing I knew that this is what I want to do in my life. I love the lifestyle and I feel at home living on a yacht. I'm an easygoing, open-minded person and I get along with other people well. At the same time I am responsible and take my duties seriously. I enjoy being a valuable team member my skipper can rely on.
Maritime qualifications
2015 – IYT VHF Marine Radio Operator Certificate #A155510.
2004, 2009, 2015 – Certificate of Maritime Radio Operator (VHF) issued by Lithuanian Sailing Union (LSU).
2000 – Certificate of Competence – Yacht master issued by the Lithuanian Sailing Union (sailing yacht skipper: all waters, unlimited sail area;  motorboat skipper:  up to 80 tonnes).
1999 – Certificate of Competence for first mate issued by the Lithuanian Sailing Union
1996 – Certificate of Competence for inland navigation master issued by the Lithuanian Sailing Union
Sailing experience
July and August 2015 – Two solo deliveries of a sailign yacht Bavaria 37 Cruiser from Gdynia (Poland) to Klaipeda (Lithuania) and from Klaipėda to Grynia. 250 NM.
April 2015 one sail charter tour with crew in Greece. 200 NM.
2010-2015 – multiple charter trips on sailing yachts Jeanneau Sun Oddysey 36i and 409 in Curonian Lagoon and Baltic sea as a skipper or flottila skipper. 1500 NM.
Fabruary 2012 –watch captain  on "Ambersail" (Volvo Open 60, former "Assa Abloy") on a trip from Aguadulce (Spain) through Gibraltar to Las Palmas. 925 NM.
June 2009 – July 2009  – "Ambersail" 11th leg of the "Millenium Odissey" from Gdansk (Poland) to Stockolm (Sweden), Saint Petersburg (Russia), Tallinn (Estonia), Ryga (Latvia), Kaliningrad (Russia) to Klaipėda (Lithuania). 1646 NM.
August 2008 and May 2009  skipper on two sail charter tours with crew in Croatia. 400 NM.
1994 – 2000 – multiple trips in Kaunas Lagoon (midle of Lithuania) on various yachts. 1000 NM.
From1999 multiple trips as a  helmsman, captain's assistant, the first mate, navigator in the Baltic Sea, visiting Sweden, Russia, Poland, Germany, Denmark. 1500 NM.
Shore based work experience
2010 – 2015 General manager at charter company Gosail.lt.
1994 — 2010  Journalist  at the national newspapers  "Lietuvos rytas", "Ekstra žinios", L.T., national online news portal ATN.lt. Writing about sports, culture, youth activities, business.
Other Skills
Lithuanian:  mother tongue
English: conversational; basic written
Russian: fluent verbal; basic written,
Excellent computer skills (Windows, Word Open Office, quick printing, HTML (basic)).
Clean drivers license since 1994.
Additional information
I am the member of the Lithuanian Sailing Union.
My hobby – writing blog (www.arbusis.lt) and photography.
References
Jean Luc Paillat – sales manager, SPBI – Chantiers JEANNEAU,
Cell 33 (0) 6 85 08 65 44, e-mail : jl.paillat@jeanneau.fr.
Olivier Criou –  manager at AmberRoute,
Cell + 370 657 90 488, e-mail: olivier@amberroute.eu .
Paulius Kovas – freelance consultant, s/y "Ambersail" (VO60, former "Assa Abloy") captain
Cell  +370 687 13111, e-mail: p.kovas@gmail.com.
Osvaldas Kudzevičius, – s/y "Lietuva" captain, winner of some Tall Ship's Race's ,
Cell +370 652 83221, e-mail: info@jachtai.lt .