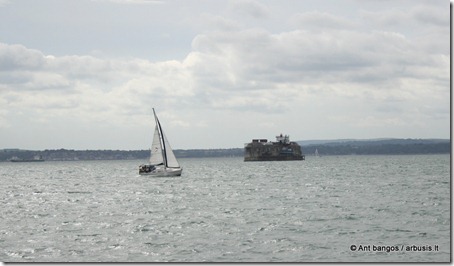 Pasakęs, kad buriavai, tarkime, Volvo60 klasės jachta, Anglijoje gali nieko ir nenustebinti. Juolab, vietoje, kur susirenka buriuotojai.
Čia visi tokie, kurie turi kuo girtis ir didžiuotis, bet to nedaro, nes nėra prieš ką – čia visi buriuotojai.
Kelias dienas buvau tokioje aplinkoje. O vieną dieną buvau netoli pietinės Anglijos buriavimo, jei nesuklysiu, Mekos – Solento sąsiaurio. Nors, jei būti visai tiksliu, tai tik šalia, Portsmoutho uosto įlankoje. Bet tai irgi Solento dalis.
Solentas įtrauktas į 100 50 geriausių buriavimo vietų pasaulyje — aprašytas knygoje "Fifty Places to Sail Before You Die".
Buriuoti čia yra kur ir "ką" — potvyniai/atoslūgiai, seklumos, fortai ir daugybę krovininių, keleivinių ar net karinių laivų. Bet tuo pačiu Solentas yra rekreacinė zona, kurioje privilegijuota grupe save gali vadinti buriuotojai.
Nuo kranto dairiausi į buriuojančius ir… uch kaip jiems pūtė gerai. Nuotraukose gal to ir nesimato.