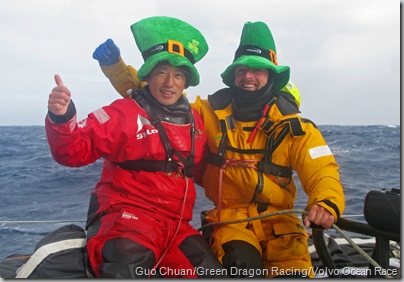 Švedų jachtos "Ericsson 3" įgula pirmoji prakalbo apie auskarus, kojas ant stalo pietų metu (??? – "feet on the table at meal times"), tatuiruotes ir visas kitas teises, kurias jūrininkai įgija apiplaukę legendnį Horno ragą.
Penktajame "Volvo Ocean Race" etape, kovo 18-osios rytą (Lietuvos laiku) keturios regatos jachtos jau aplenkė Pietų Amerikos pietinį kraštą.
Abu "eriksonai" ir PUMA jau Atlanto vandenynu juda link Rio De Ženeiro, "Green Dragon" dar neišniro iš Pietų Amerikos "šešėlio", o be vieno priekinio forštago plaukiantiems "Telefonica Blue" iki Horno rago buvo likusios daugiau kaip 500 jūrmylių.
Nuotraukoje – Airijoje gimusios, bet Kinijoje statytos jachtos "Green Drgaon" įgula švenčia šv.Patriko dieną.
Apiplaukusios Horno ragą jachtos uždirbo papildomų taškų (skliaustuose – laikas, kada jachtos piplaukė Horną, GD laikas jau kovo 18 d.):
1. Ericsson 3 – (12:22 GMT): 4 points
2. Ericsson 4 – (14:48 GMT) 3.5 points
3. PUMA – (20:46 GMT) 3 points
4. Green Dragon – (02:15 GMT) 2.5 points
O čia trumpas filmukas, kaip sekasi plaukti etapo lyderiams: